Access & Security
Modernize with Watervize. A powerful suite of tools for irrigation district management, scheduling and daily operations.
The Tools Your District Needs. The Software It Deserves.
Watervize is a web-based application that eases district management. Our software gives you a suite of tools that is expanding and optimized to meet your needs.
Online Water Orders
Reduce workload while enabling your customers. Here's how we do that.
Online water orders reduce time spent on calls
Orders can be placed from any internet-ready device (computer or mobile)
You gain control with detailed rules about when and how orders can be placed
Suspend customer water use when necessary
Specify no-order and off-season dates
Water Order Processing
Ditch Riders and district staff will be more efficient. Track & process water orders anywhere and on any device with internet access.
No specialized hardware required
All you need is an internet connection
View and filter order history
Manage future orders
View trends to predict usage and conserve water
View real-time flow of district water through a variety of metrics
Customer Information Portal
Stop wasting time on the phone. Watervize gives you and your customers access to a expansive customer information portal. Insights provided include:
Online water orders
Current order status
Past orders and usage data
Assign multiple users to one account
Assign one user to multiple accounts
Organize and sort customers by groups, organizations or other metrics (boundary locations)
Role-Based Access Controls
Need to control access? No problem. Watervize offers variable staff account types, enabling greater control over staff management and responsibilities.
No limit to the number of District Staff accounts
Variable account types for more or less access permissions
Fine-tune the permissions allowed for each role
Improves accountability and ensures auditability
Direct Messaging (In-App)
Custom notifications will keep your staff and customers in constant, informed contact. Customers can select where they want to receive notifications while your staff can be notified of orders and urgent matters.
Enables customer and staff in-app communication
Contact customers via app, email, SMS or push notifications from one central hub
Maintenance and Infrastructure Asset Management
Analyze performance of assets and optimize maintenance scheduling
Enable secure sharing of asset information across your district
Plan & schedule preventive maintenance and set in-app, email, or SMS reminders
Document maintenance tasks and downtime, labor, and material expenditures
Eliminate unplanned asset downtime
Optionally allow water customers to submit repair requests
Process maintenance requests & trouble tickets from any device with internet access
Custom Reports
Built-in and exportable reports make for efficient planning. Build the detailed, data-driven, customized reports you need to succeed.
Select all the data or specific sets
Process, customize, print or export reports to Excel at any time
Customization
You're in charge of your irrigation district and the Watervize application. A high degree of customization includes terminology, measurements, water order rules and much more. We're all ears.
Upcoming Features
A peak into the future
District Invoicing
Watervize has developed the framework necessary for in-app invoicing and billing. This optional feature is expected in 2019 and brings greater opportunity for efficient management. Invoice and bill customers directly from the app instead of utilizing multiple platforms. Now that's centralized.
Data Analytics
We love data and the insights it provides your district. Our growing list of built-in reports, tables, charts and visualizations are for you.
Forecasting Tools
Planning takes hardened strategy and data. Ours is being refined by powerful weather application programming interfaces and machine learning.
Data That Matters
Watervize is a full-service irrigation district software. Built-in reports, tables and graphs provide clarity in data that can be filtered and exported to Excel or other tools.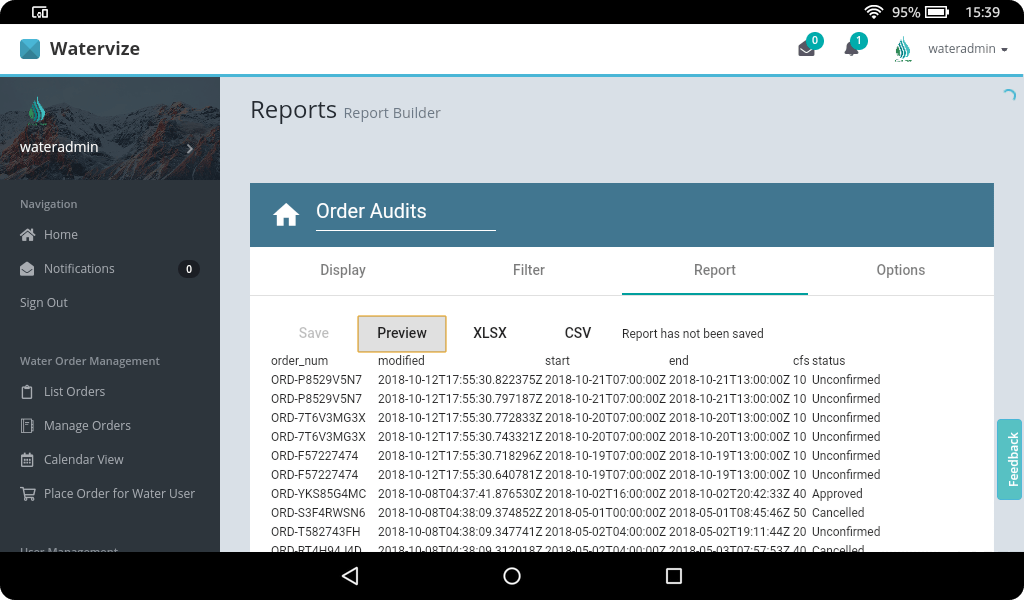 Frequently Asked Questions
Modernizing can be intimidating. We ease the burden by answering some frequently asked questions.
Why is it important to offer online water orders?
A recent USDA survey shows over 70% of farms in the United States have internet access. Farms west of the Mississippi even more so. Combine this with a growing nationwide rate of 40% of growers using tablets or cell phones to conduct farming business and the demand for a irrigation district software (Watervize) is necessary. By satisfying a customer need you are also reducing your workload and improving satisfaction and water management.
How long does it take to get started with watervize?
Onboarding Watervize takes as little as one week. Though historical data imports, custom reporting and other optional features may take longer, customers can place water orders almost immediately. We call that a great ROI.
What is Software as a Service (SaaS)?
SaaS utilizes the benefits and security of cloud computing to provide seamless software updates, security, maintenance and hardware upgrades. No more dealing with slow download speeds or investing in large pieces of technology – we've done that for you. Our software is located on servers in California, backed up regularly to a second set of servers in Texas and updated automatically. We've got you covered.
Is our data secure?
Apologies for getting technical. Watervize uses the latest cryptographic and security standards to ensure your data is safe and secure. An easy way to verify this? Our website and web applications always start with "https". This is a secure version of web browsing that ensures each transaction is secured. Moreover Watervize is built on Django, a web framework with built-in security.
Ready To Start Taking Orders?

About Watervize
Watervize is a Web App software service from Omen Apps for improving Irrigation District operations management and online customer interaction.
Watervize
Irrigation District Management Software & Customer Information Portal
A Service of Omen Apps
Copyright 2018, 2021 Omen Apps
[wpml_language_selector_widget]